Growing herbs is a great way of attracting bees to your garden. It doesn't matter what size the garden is, whether you have a full bed of herbs, a few containers on a patio, or a couple of window boxes, herbs are a useful way of getting bees in to feed, as well as providing you with fresh ingredients for your cooking!
Bees love herbs! Share your herbs with the bees by leaving them to flower and you'll attract different bees to different plants. Plant a selection of herbs that flower in different seasons as it will ensure there is a constant source of nectar for bees from early spring right through to late autumn, possibly even early winter, and try to plant them in large groups so that pollinators don't use all their energy going from plant to plant trying to find nectar.
Below are my favourite herbs that bees love and that most people would have in their kitchen right now (either fresh or in dried form)… followed by a few herbs you may never have thought (or heard) of!
Chives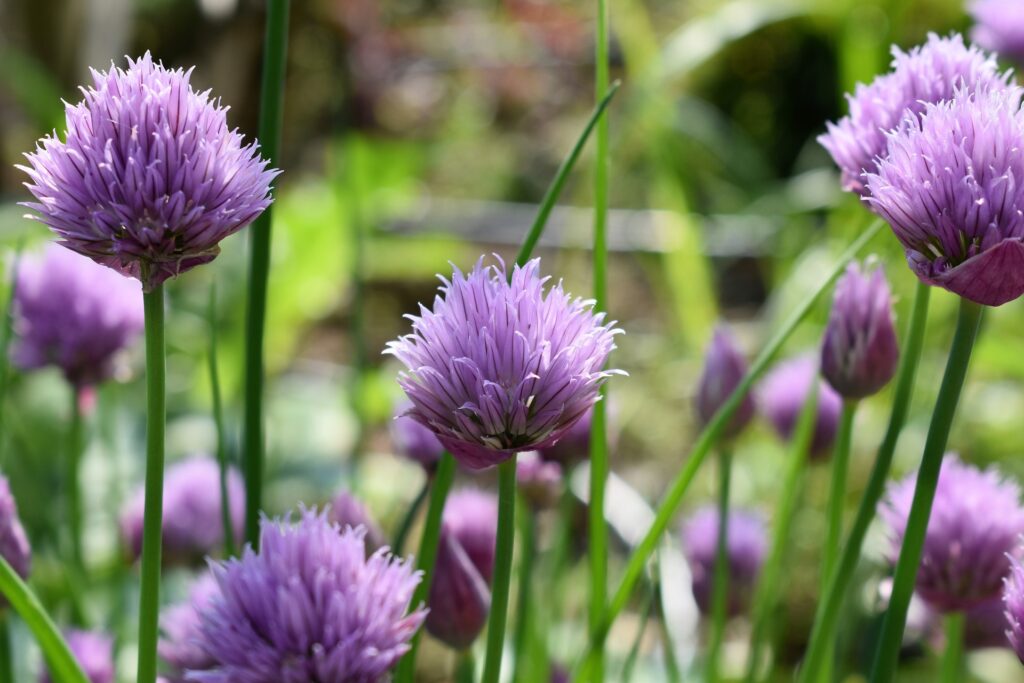 Chives are a member of the onion family and are delicious to both us and bees alike! In order for them to be beneficial to pollinators they must be left to flower… you won't be disappointed! Their flowers are blue-purple globes which are hugely attractive to bees. Chives bloom all summer and will attract bees, butterflies and moths. They like full sun, however they will tolerate some shade.
In the kitchen: you can still use the non-flowering stems for cooking and are great chopped & sprinkled over salads, stir fries, or mixed with sour cream on top of a jacket potato.
Fennel
Fennel is a member of the carrot family and has bright yellow flowers and feathery leaves. The nectar and pollen rich flowers attract a variety of pollinators, particularly hoverflies whose larvae feast on aphids! The flat flower heads make it easy for bees and butterflies to land. Once it goes to seed in the autumn, it attracts seed-eating birds. It is also the food plant of the Mouse Moth caterpillar.
In the kitchen: fennel has an aniseed flavour which goes well with fish dishes. The seeds can also be used in curries.
Lavender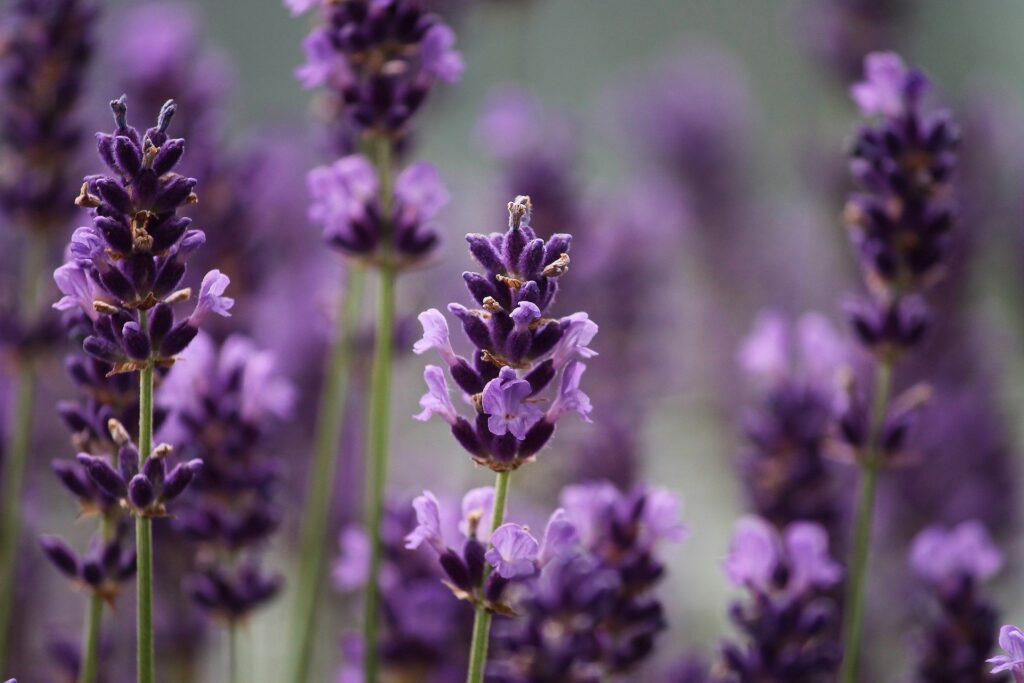 Lavender is one of those herbs that everyone knows. It is loved by bees and butterflies due to its small tubular flowers providing plenty of nectar during the summer months. Plant lavender in a sheltered spot in full sun and well-drained soil. It also grows very well in pots.
In the kitchen: surprisingly there are lots of ways to use lavender in cooking as it is both sweet and savoury! This article shares some great ideas for the more adventurous! Outside of the kitchen, it has a beautiful fragrance, and the seeds can be used in potpourri, as well as other toiletries. Some also believe that lavender oil has antiseptic and anti-inflammatory properties.
Lemon Balm
I find that lemon balm is one of those herbs you just have to keep brushing past as it smells divine!
The small white (occasionally pink or yellow) flowers bloom in the summer months and are loved by bees. It is a member of the mint family and, like mint, it grows very well but can dominate the area, so is best grown in a raised bed or container. Lemon balm has an interesting history and is connected with bees in several ways – you can read all about it in this fascinating article by the Herbal Academy.
In the kitchen: lemon balm goes well with chicken, fish, and vegetables. It gives salads a nice citrus flavour when added, and as with mint, it also makes a refreshing cup of tea!
Mint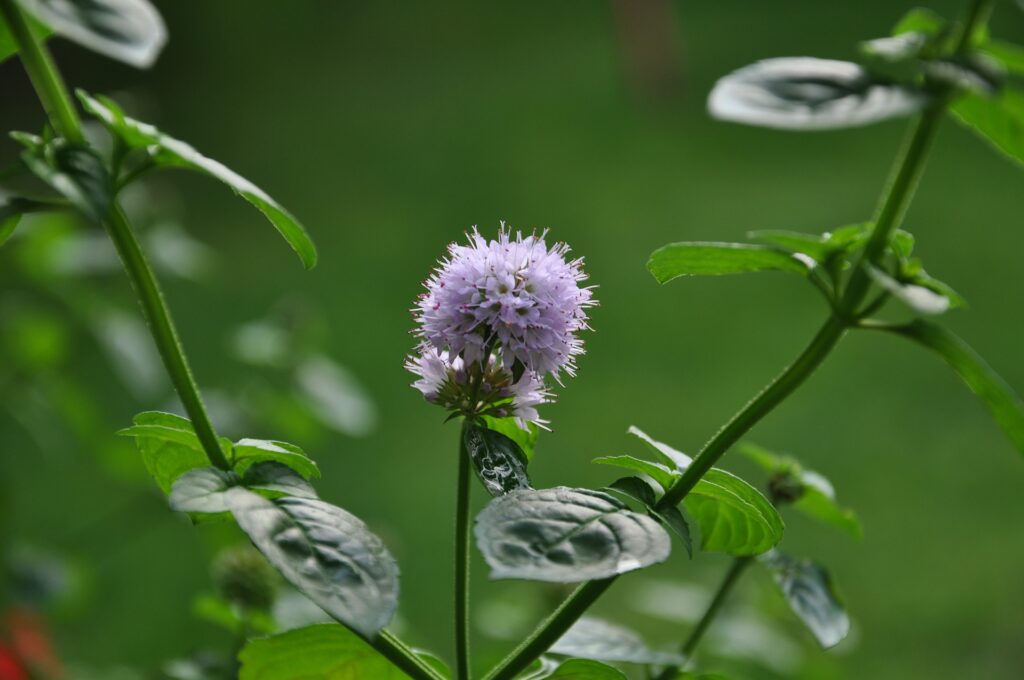 Mint is actually one of the best herbs for attracting beneficial insects into the garden, such as butterflies, hoverflies and lacewings. The beautiful Mint Moth can also be found sitting on the leaves during the day. It has tiny blooms of white, pink or purple flowers to attract the pollinators. It likes to grow in full sun but will also tolerate partial shade. Mint is invasive and will spread rapidly if left to its own devices, for that reason most people prefer to grow mint in pots. It is known to have antibacterial properties and blue tits sometimes take mint leaves into their nest!
In the kitchen: mint is great with boiled new potatoes, roast lamb and is also great in iced drinks, cocktails or tea.
Oregano (Wild Marjoram)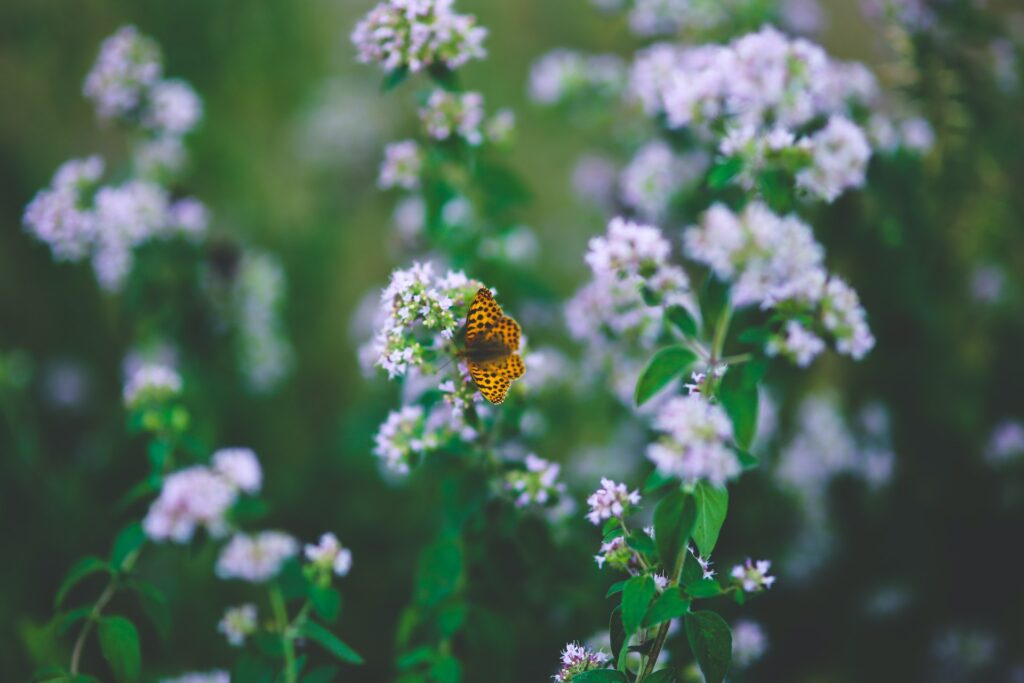 Oregano is a member of the mint family and, like mint, is one of the best herbs for attracting bees, butterflies and other pollinators. The pinky/white nectar-rich flowers bloom in summer through to early autumn and are extremely attractive to bees. It will thrive in a sunny sheltered spot in well-drained soil.
In the kitchen: oregano goes well with most meats and vegetables. It is great when added to tomato pasta sauces, and the delicately flavoured flowers are good sprinkled on salads.
Rosemary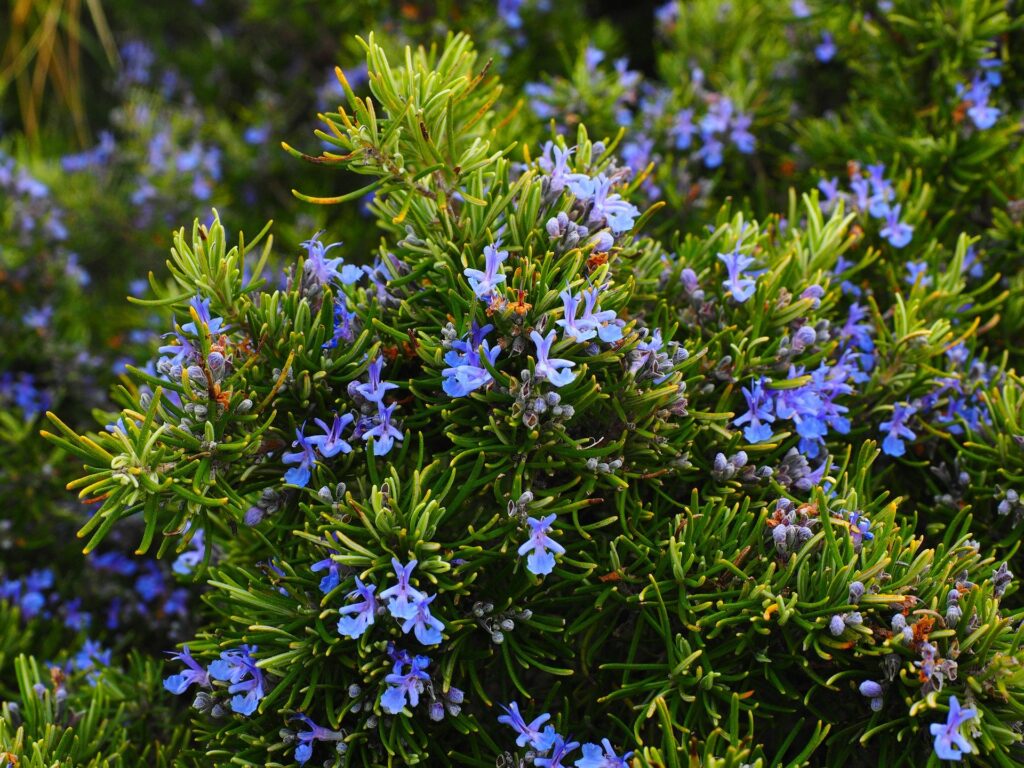 Rosemary is a woody herb that, when left to flower, produces small blue/purple flowers which contain plenty of nectar for bees and other insects. It flowers in early spring through summer, but occasionally has been known to flower all year round if the weather is good.
In the kitchen: it's a herb that pairs well with roast lamb and roast potatoes, as well as being used in sauces and soups.
Sage
Sage has spiked blooms of blue/purple flowers which bees love. It grows well in full sun and flowers July and August. Some species of moth also like sage as a valuable food source for its caterpillars.
In the kitchen: sage goes well with most meats, and in Italy they mix chopped sage with melted butter before stirring it into pasta. Sage is also used today as a remedy for coughs and sore throats when made as a tea.
Thyme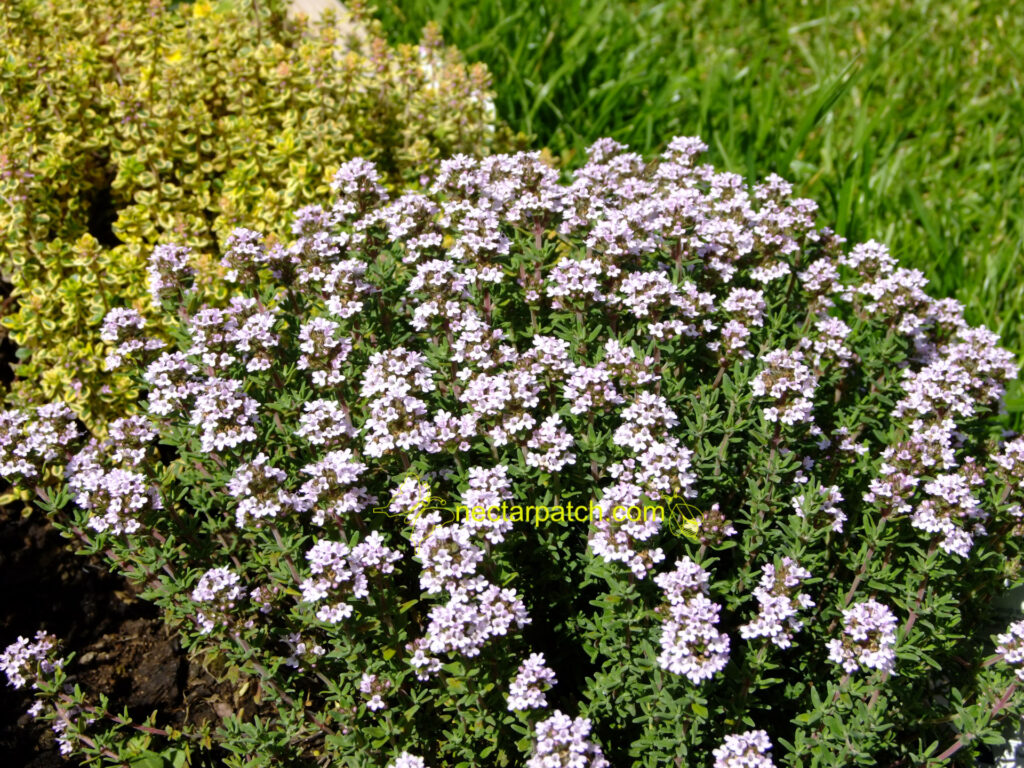 Thyme is an easy to grow herb which has delicate clusters of pale purple/pink flowers which bloom throughout summer. It attracts all types of pollinators and is also a caterpillar food plant. It prefers to grow in full sun and well-drained soil. It is often planted in gaps in rockeries and patios and will become a beautiful carpet of flowers, however it is also suitable to grow in pots as part of a herb garden.
In the kitchen: thyme is one of the ingredients of the classic Bouquet Garni used to add flavour to stews and soups.
More herbs…
Below are a few more herbs which you may not be familiar with, or are classed as "old fashioned", or maybe aren't really thought of as herbs. These are all still beneficial to bees and other pollinators.
Angelica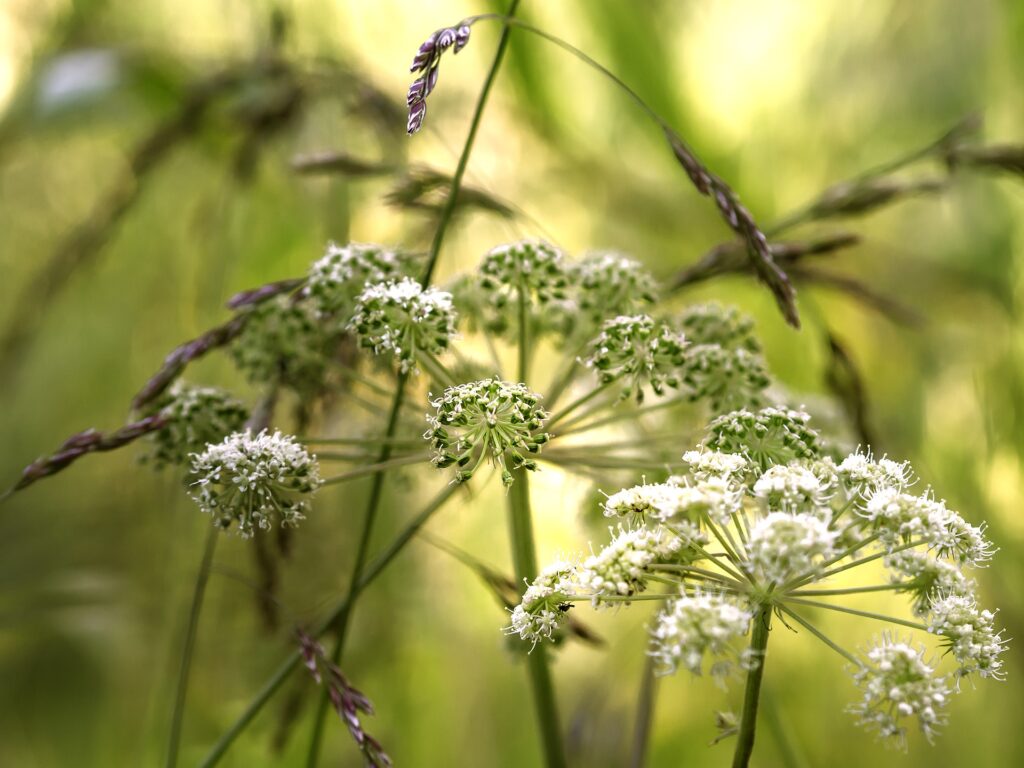 This tall herb loves damp shady conditions, and its huge flowerheads are very attractive to pollinators, being a vital food source for early bees and hoverflies. Its seeds are also eaten by birds in the autumn.
In the kitchen: it is probably best known for making candied stems for cake decoration. The herb has also been used in the treatment of respiratory illnesses.
Borage (also known as "Star Flower")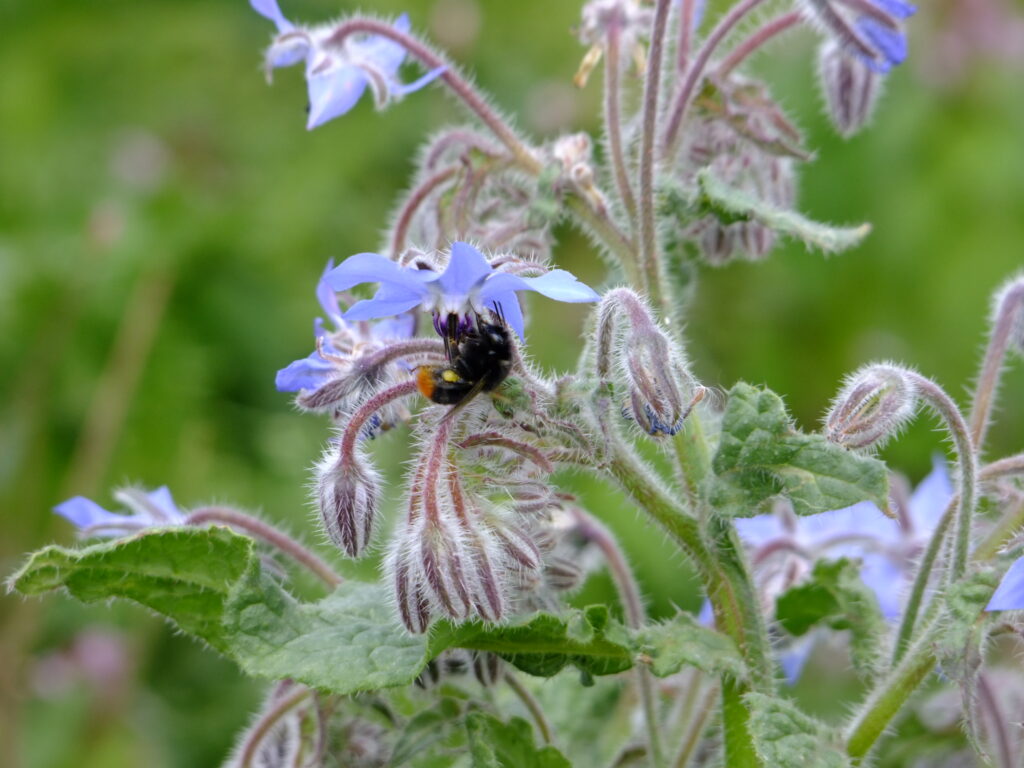 I first came across Borage in 2019 when we planted it in our wildflower patch, and the bees absolutely loved it! Its shallow, delicate bright blue flowers bloom from June through to October. They are a magnet for bees and hoverflies, as the flowers refill with nectar within 2 minutes after a bee has visited it!
In the kitchen: the flowers taste delicious in salads and can also be used as a garnish in drinks.
Curry plant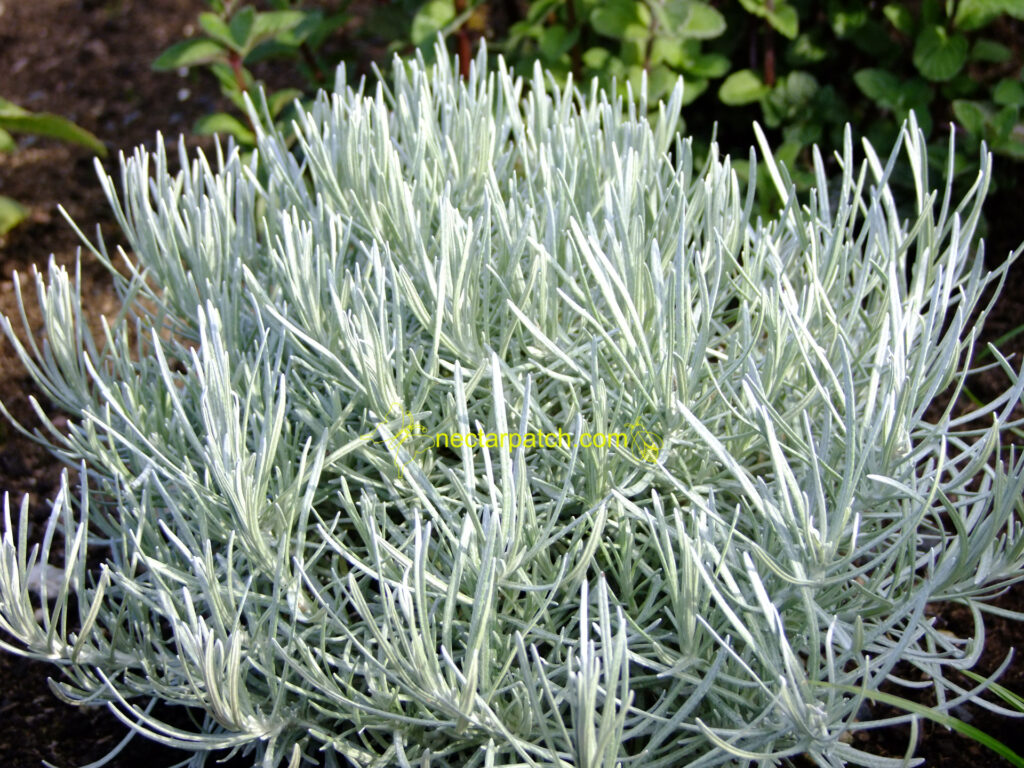 If you like the smell of curry, then you must get this plant! I have it in my own pollinator garden and it smells divine 😊.  It has thin silvery grey leaves and is full of small bright yellow flowers in the summer months which attracts plenty of bees.
In the kitchen: there is some dispute as to whether the plant adds any flavour to dishes, and most people are disappointed with the lack of taste given that the smell is quite strong. Personally, I would just leave it for the bees to enjoy.
Hyssop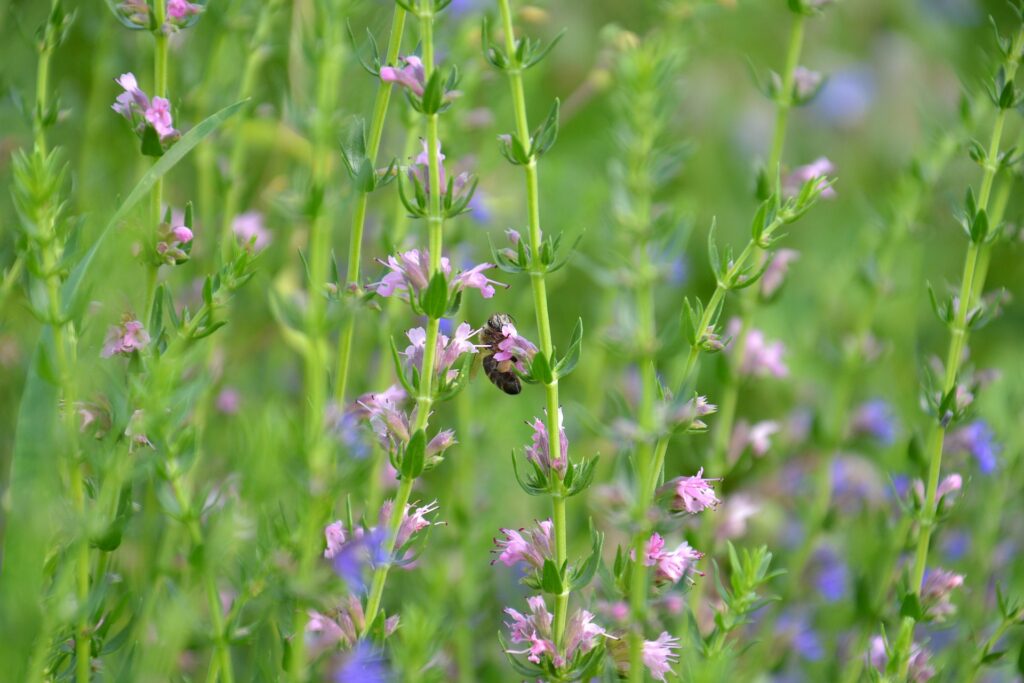 Hyssop is a great herb for attracting bees and other pollinators with its blue/pink tubular flowers. It is sometimes used by beekeepers to produce aromatic honey. It has nectar/pollen rich flowers throughout summer, and the seeds attract seed-eating birds in the autumn.
In the kitchen: the leaves go well with oily fish.
Stinging Nettle
This wild herb is probably the most important and most useful plants we have in the UK and Ireland! It is hugely beneficial to a multitude of insects and is the primary food source for the caterpillars of the comma, peacock, and small tortoiseshell butterflies. Nettles are also the preferred location for ladybirds to lay their eggs, which is great news for gardeners as their larvae feast on aphids and other garden pests.
In the kitchen: nettles can be cooked with potatoes and blended down into a soup, or they can be eaten the same as you would spinach. Its leaves can be steeped in boiling water to be drunk as tea, which is supposed to help fight off ailments.
If you are planting herbs purely for culinary purposes, please try to leave a few to go to flower so the bees can enjoy them as much as you do 😊