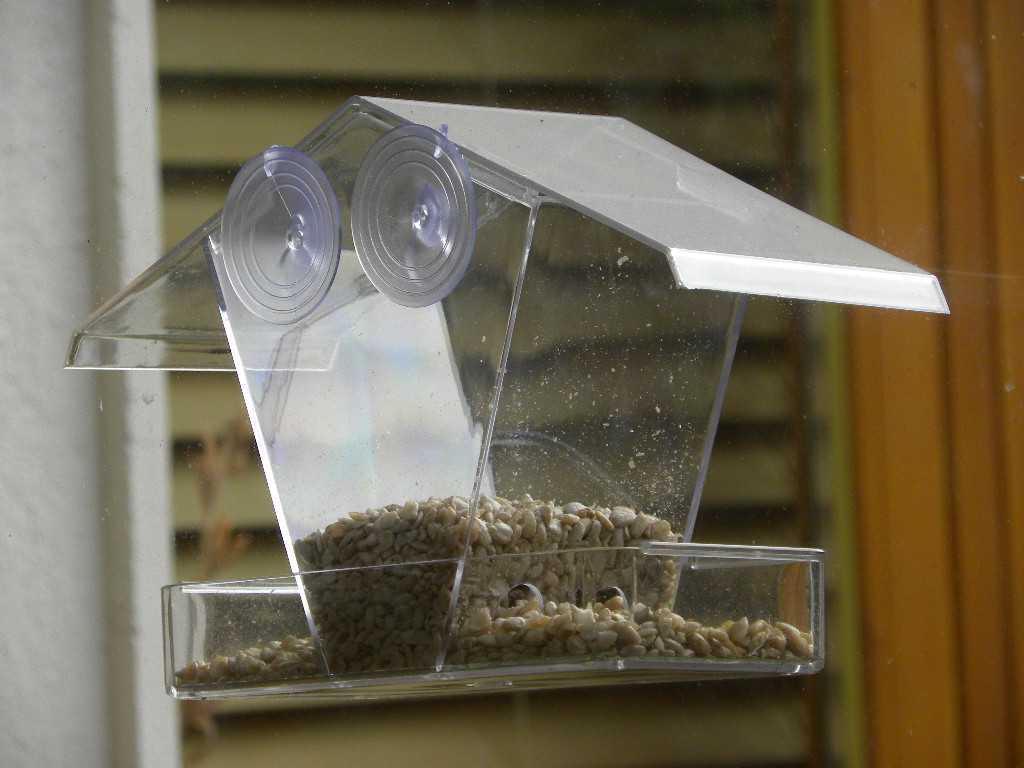 With the arrival of the Sparrowhawk (which I haven't seen again since the last time I posted :(), and the ever-present cat from next door, I decided it was time to provide a bit more protection for the little ones!
So, I've bought a guard for the ground feeder.  So far, only the Robin and 3 Blackcaps (2 males & 1 female, happy days :)) have ventured into it.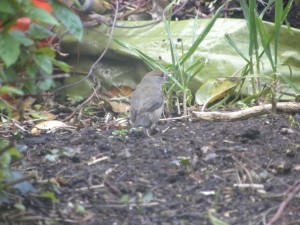 Another reason for the purchase was to keep the Pigeons & Starlings from eating everything! Although, one Pigeon has discovered that his neck will fit through the holes to reach the food!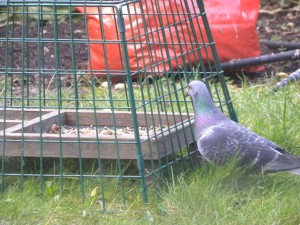 It is quite funny watching the Starlings trying to work out how they can get to the food inside – we're thinking of attaching string or something to the lid to see how long it takes them to figure out if they pull the string, the lid will open & they'll be able to get inside 🙂
I've also bought a large fat ball feeder, which is currently hanging up on the corner of the bungalow…..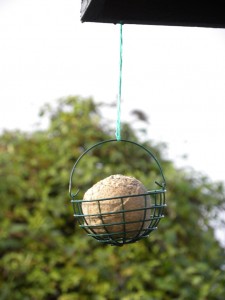 …..some sunflower hearts, and a window feeder which I've stuck on the patio door.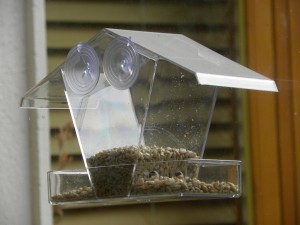 Nothing has come onto the window feeder at all, but I put it there on the off chance that a member of the Tit family may pass by & spot it!  I am debating whether to move it to the front window (my office window) as there are a couple of Blue Tits that flit through the hedge at the front on a daily basis.  Only thing is I work from home & I might not get any work done at all if it's on my window 😉
I'm currently completing the Birdwatch Ireland Garden Bird survey, which runs for 13 weeks – I do it every year, and I must say so far this time it has been the worst ever!!  I'm in the 4th week, and have only had a grand total of 15 different species in the garden! I can't even include the Sparrowhawk as I've not seen it since starting the survey 🙁
I never thought I'd say it, but please hurry up & snow -I want to see Redwings, Fieldfares and Long Tailed Tits in my garden!
I need another 7 species in the garden to beat last years total….. and only 10 days to do it in!