No posts for at least a month then I do 2 in 2 days 🙂 But I just had to share what I saw today… AND my photo has been put onto a website!
Being as the weather was gorgeous today (a bit of a rarity in Ireland!), we decided to visit Blackditch Nature Reserve in Newcastle, Co Wicklow.  I tend to keep an eye on the bird sightings on the Irish Birding website and there have been quite a few birds listed around that area.
There was no-one else around when we arrived so had the hides to ourselves.  The sun was shining and the skies were a gorgeous clear blue, there was a chill in the air though, a proper autumnal feel!  The reserve is on the coast and is a mix of marshland, reedbeds, fields and copses with 3 hides strategically placed for good views of waders and woodland birds – unfortunately only 2 of the hides are accessible at the moment.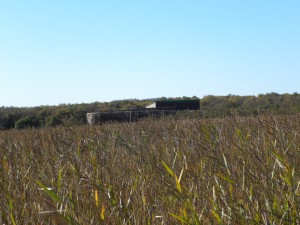 Whilst walking along the boardwalk through the reeds, I saw this bird in the tree – I think it's a female Reed Bunting (but please correct me if I'm wrong!).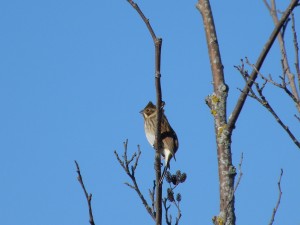 We made our way up to the 1st hide, opened the windows & sat down.  We hadn't even had time to reach for the camera when a small bird of prey swooshed past the window and landed on the corner of the hide!
My first thought was Kestrel but then I saw her…. she was beautiful! A Merlin! The smallest raptor in the UK.  Needless to say the camera was clicking non-stop for the 5 minutes that she sat there. Unfortunately though she sat on the opposite side of the hide to where the windows were open so the shots were taken through dirty glass!  But I'm very happy with them and it's the first time I've ever seen a Merlin so I couldn't stop smiling 🙂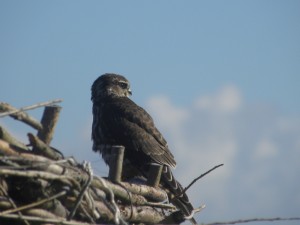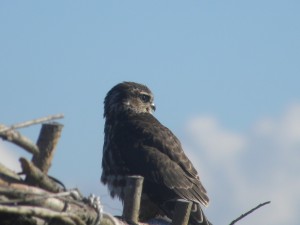 She flew off into the reeds and we didn't see her again but we did see a Kestrel in the same area which we were surprised at – maybe they've not seen each other yet!
We made our way to the 2nd hide where this Pied Wagtail was on the roof picking off insects.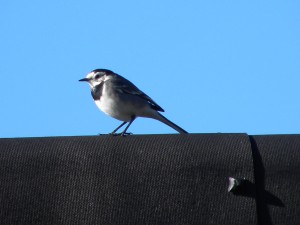 We sat watching the Kestrel in one of the conifers way off in the distance preening itself but it was too far away to get on camera 🙁
As soon as we got home I sent my sighting of the Merlin to the Irish Birding website and they've put it up as Photo of the Day!  I definitely can't stop smiling now 🙂
If the weather is okay tomorrow, we're going back to Blackditch (it's a bank holiday tomorrow in Ireland) to see if the Merlin is still there.  According to the sightings list, we might also spot a Short-eared Owl, Kingfishers and a Hen Harrier so you never know!