No matter what size garden you have, by planting pollinator friendly flowers you will be helping the 98 different types of bee, 35 species of butterfly and 1,350 types of moth we have here in Ireland (yes, you read that correct – we have approx. 1350 different moth species in Ireland compared to about 35 butterfly species!)
Pollinator friendly flowers produce lots of nectar and pollen and the key thing is to plant a mix of flowers that have different flowering times so there is always nectar available from early spring through to late autumn.
When choosing your pollinator plants, avoid double flowered varieties as they hardly produce any nectar and pollen. It's best to select scented, single-flowered varieties and think about planting them in blocks as they will be easier for pollinators to find without wasting energy moving from one flower to the next.
Combine planting annuals with perennials – in general perennials have more nectar and pollen than annuals, however annuals provide instant blooms for the pollinators so it's best to have a good mix of the two.
Below is a table showing a brief summary of 10 annuals, the position they prefer, flowering times and the pollinators they attract, followed by a more descriptive summary, my own experience of them and photos 😊
| | | | |
| --- | --- | --- | --- |
| Plant Name | Position | Flowering Months | Pollinators |
| Borage | | Jun – Oct | |
| Cornflower | | May – Jul | |
| Cosmidium | | Jul – Sep | |
| Cosmos | | Jun – Oct | |
| Field Poppy | | Jun – Aug | |
| Lobelia | | May – Aug | |
| Poached Egg Plant | | May – Jul | |
| Sunflower | | Jul – Sep | |
| Sweet Alyssum | | Jun – Sep | |
| Verbena | | Jun – Oct | |
The majority of these plants are ones that I had in my garden last year, and which saw a lot of activity when it came to bees, butterflies, hoverflies and moths. Obviously, there are plenty more annuals to add but I think this list is good for starters 😊
1. Borage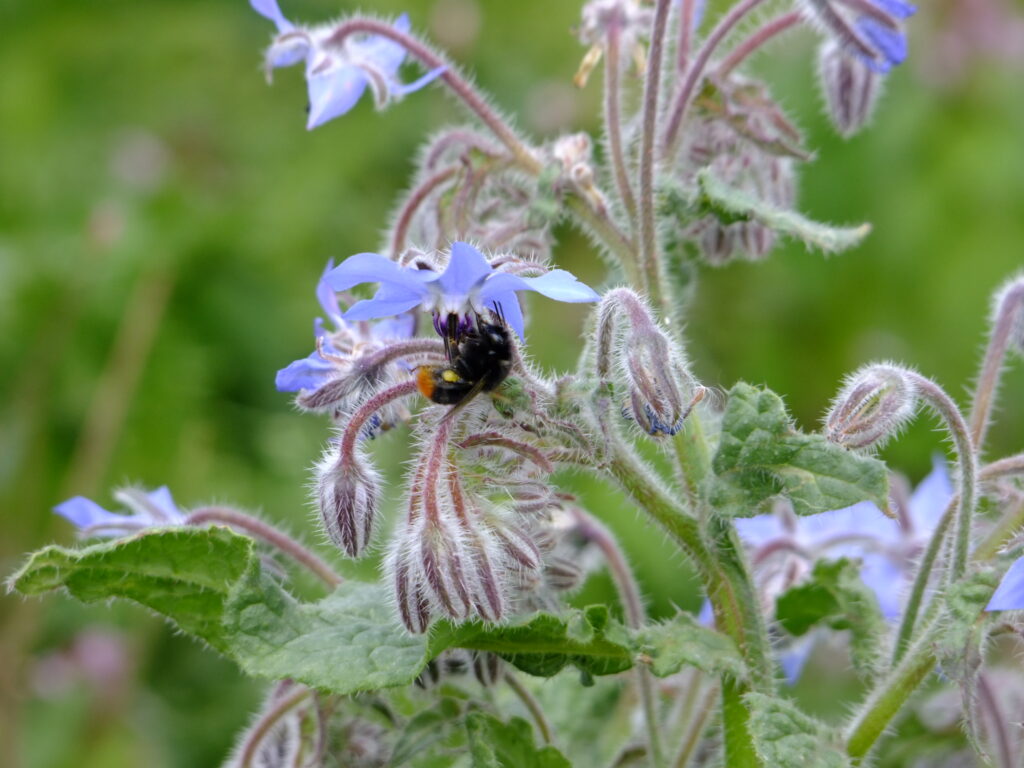 We sowed a lot of borage seed last year in our wildflower patch and once it flowered the bees loved it! Each time I looked out the window I could see a bee on almost every single flower – it was lovely! The borage flower refills with nectar within 2 minutes after a bee has visited it! No wonder it's a favourite of bees! Not only is this plant good for bees, but the flowers also taste delicious in salads too!
It grows well in full sun or dappled shade and flowers from June – October. It can reach a height of around 60cm with a 45cm spread. However, be cautious if you're a pet owner as it can be toxic to cats & dogs.
2. Cornflower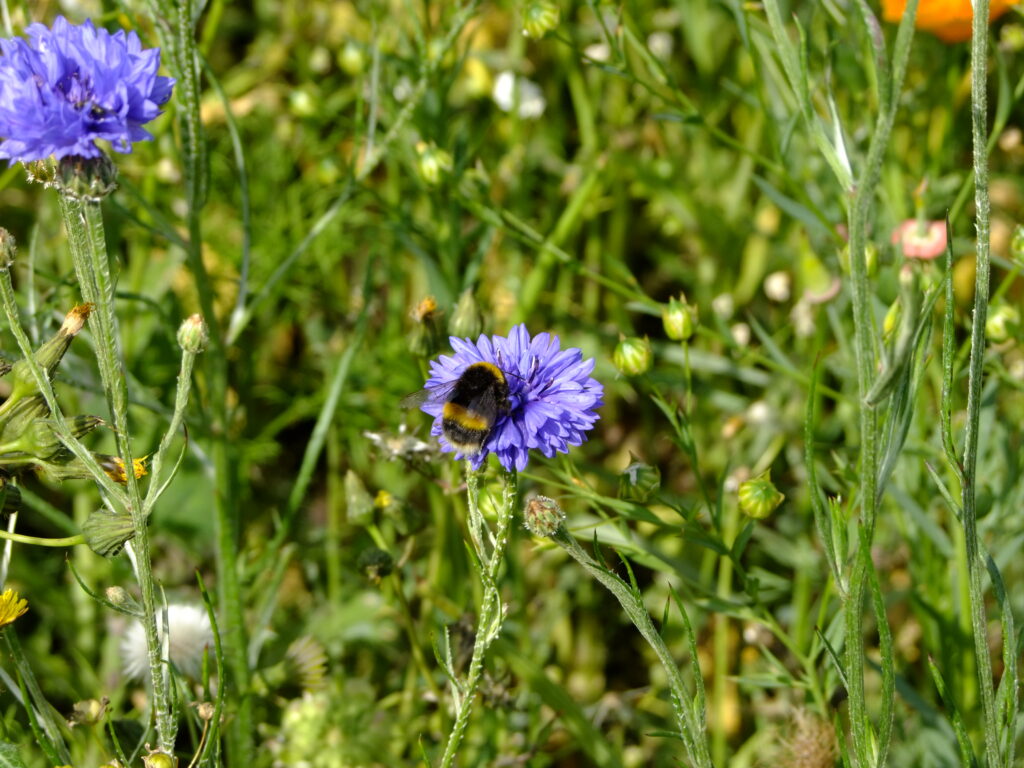 I remember seeing meadows of blue cornflowers when I was little & loved them! So, I was really pleased when I saw that cornflowers were included in the wildflower seed mix we had last year. I was amazed though to see there were also pink and white ones!
Whilst the bees loved all of them, they seemed to favour the blue ones the most. We also left them after the summer to go to seed which fed the selection of birds we had visiting the garden 😊
Cornflowers like a sunny position and can grow up to 90cm in height in well-drained soil.
3. Cosmidium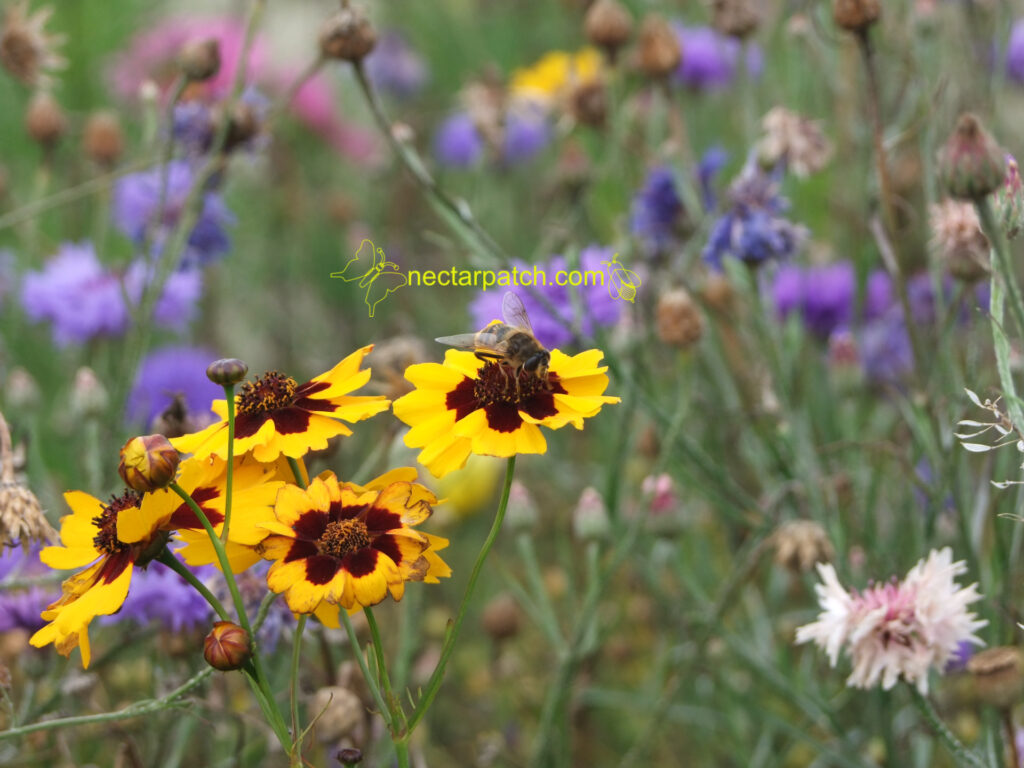 These easy to grow annuals have large showy flowers which are yellow-edged with purple-brown centres. They like sunny positions and can grow up to about 40cm in height. These were a hit with the bees and provided a burst of bright yellow in our wildflower patch! Cosmidium is always included in wildflower / pollinator seed mixes and so does attract bees and other beneficial insects.
4. Cosmos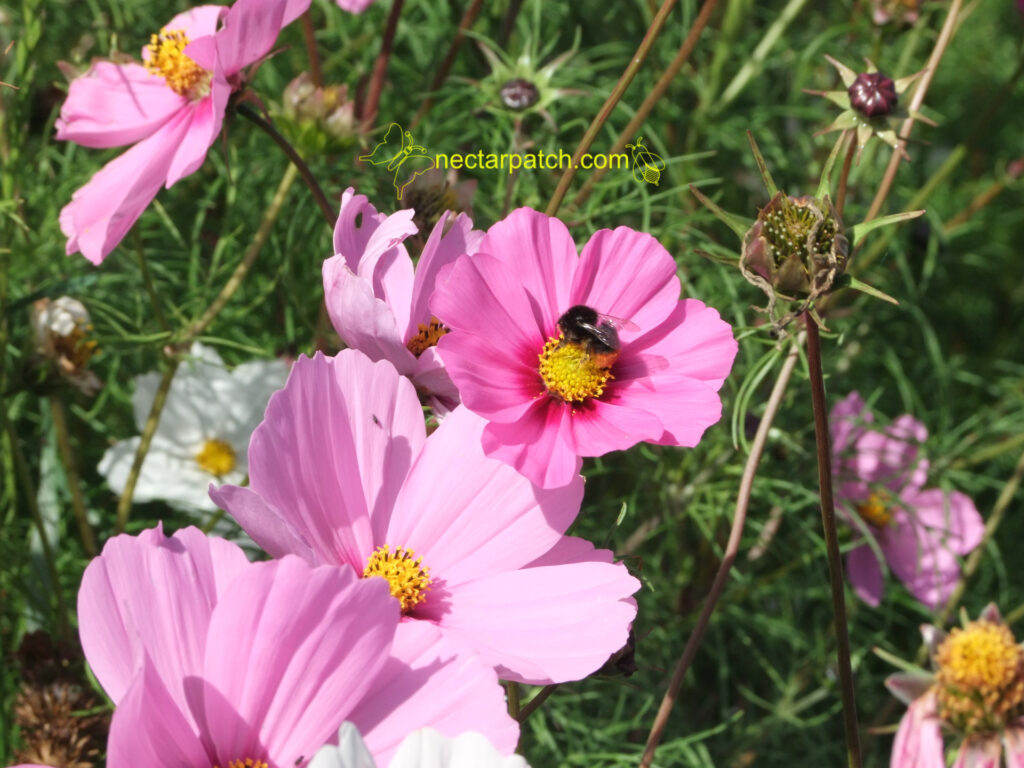 I'd never seen Cosmos before so I was really excited to see them flower last year. They have gorgeous daisy-like flowers in lovely shades of pink, red and white which flower from June to October. The bees, butterflies and hoverflies loved them. They like to grow in full sun in well-drained soil and can grow to 60cm in height.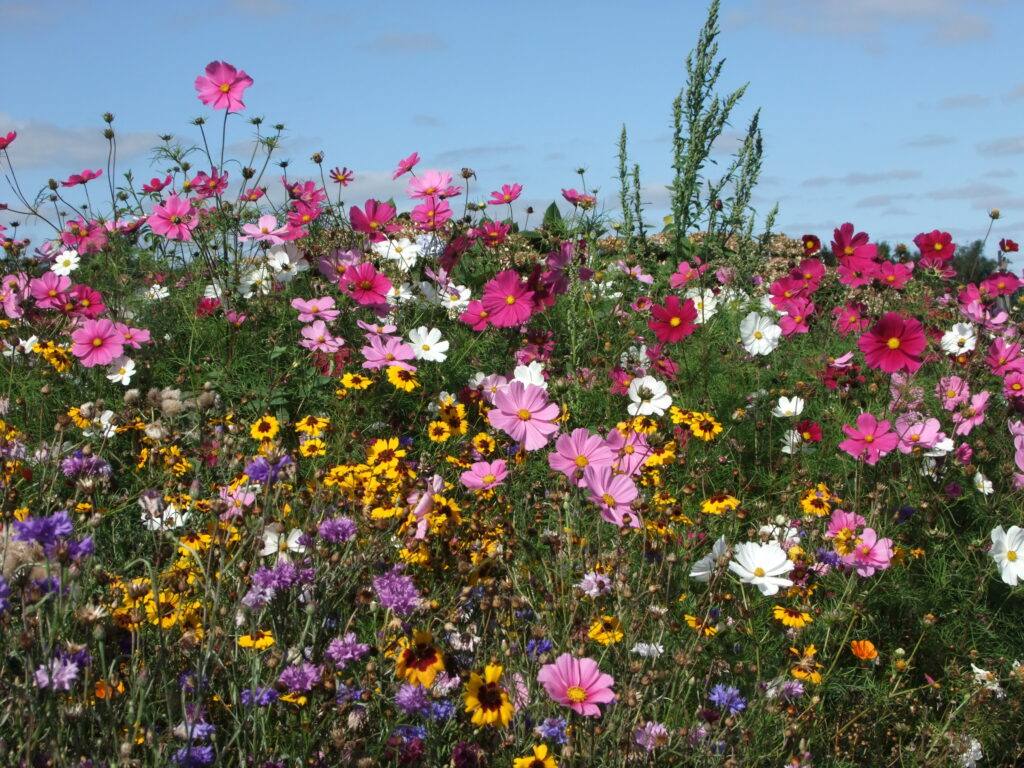 Cosmos is also known as the "Basket Flower" due to the structure of the centre being surrounded with petals, makes it look like a basket. We had large areas of them and as you can see in the image above, the effect was quite striking…
5. Field Poppy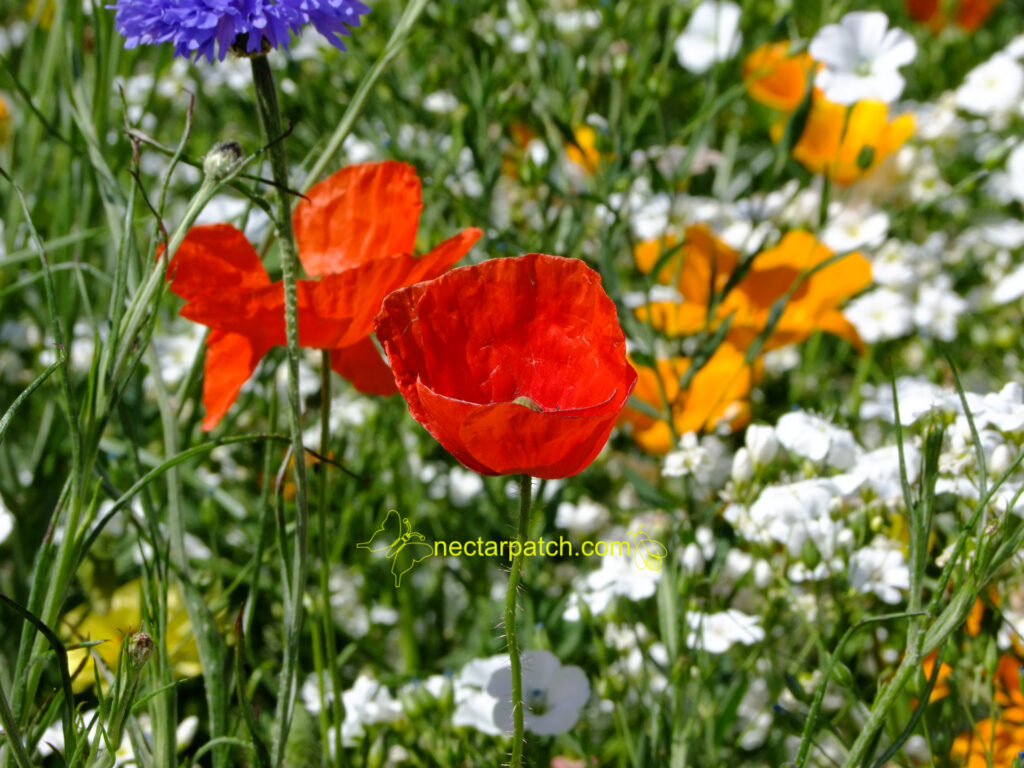 One thing I remember when travelling in the car along the motorway as a child was the verges & embankments being packed with lovely wildflowers and lots of bright red poppies. They really are beautiful and I would certainly recommend adding them to your garden. They thrive in full sun in well-drained soil and are extremely popular with bumblebees!
6. Lobelia
There are different varieties of Lobelia ranging from the trailing kind which are good for hanging baskets and containers to the compact upright bushy kind which are good for adding to borders, to the taller variety that can grow up to 1m in height. We planted both the trailing and the compact bushy types in our containers and they didn't disappoint.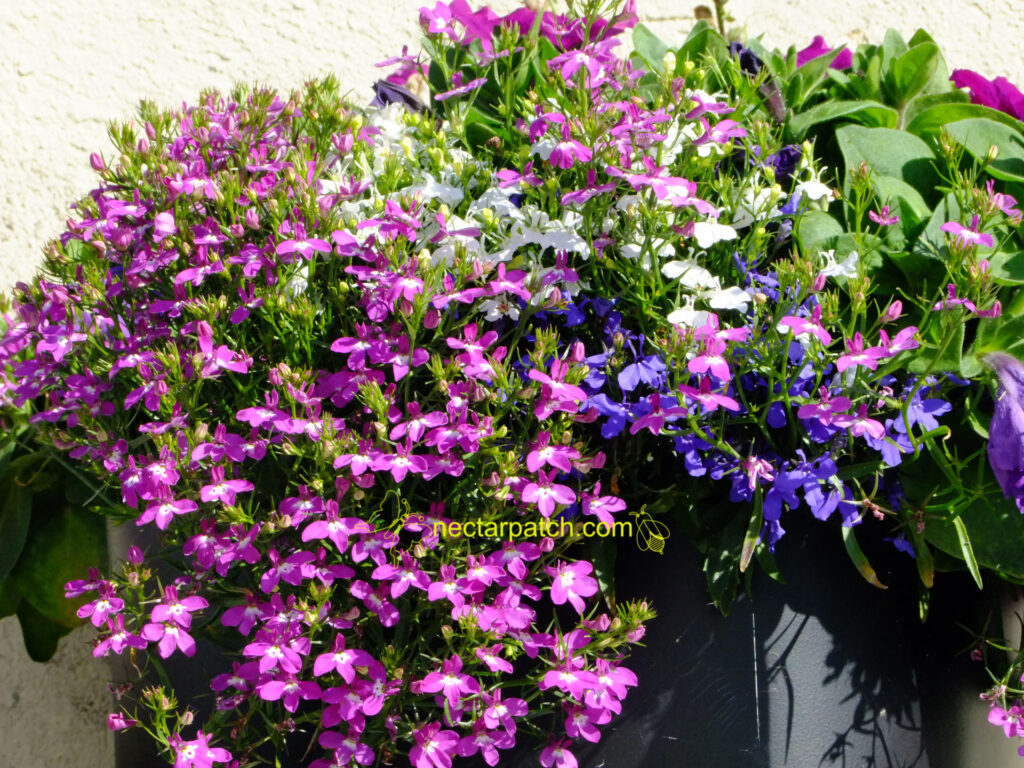 We had pots full of pink, purple, and white flowers which the bees and Small Tortoiseshell butterflies loved. Lobelia likes to grow in full sun but will tolerate partial shade.
7. Poached Egg Plant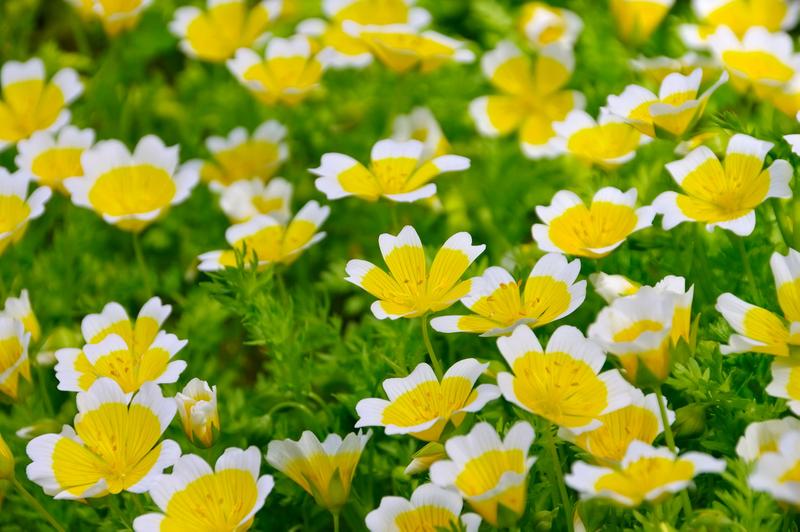 This annual looks like a poached egg, hence its name (although I think it looks more like a fried egg!) It's recommended to plant it as ground cover in pollinator gardens and it will attract a lot of bees. It grows well in full sun in well-drained soil and can grow up to approx. 15cm in height. This is a plant that I am hoping to try out this year in my own pollinator garden.
8. Sunflower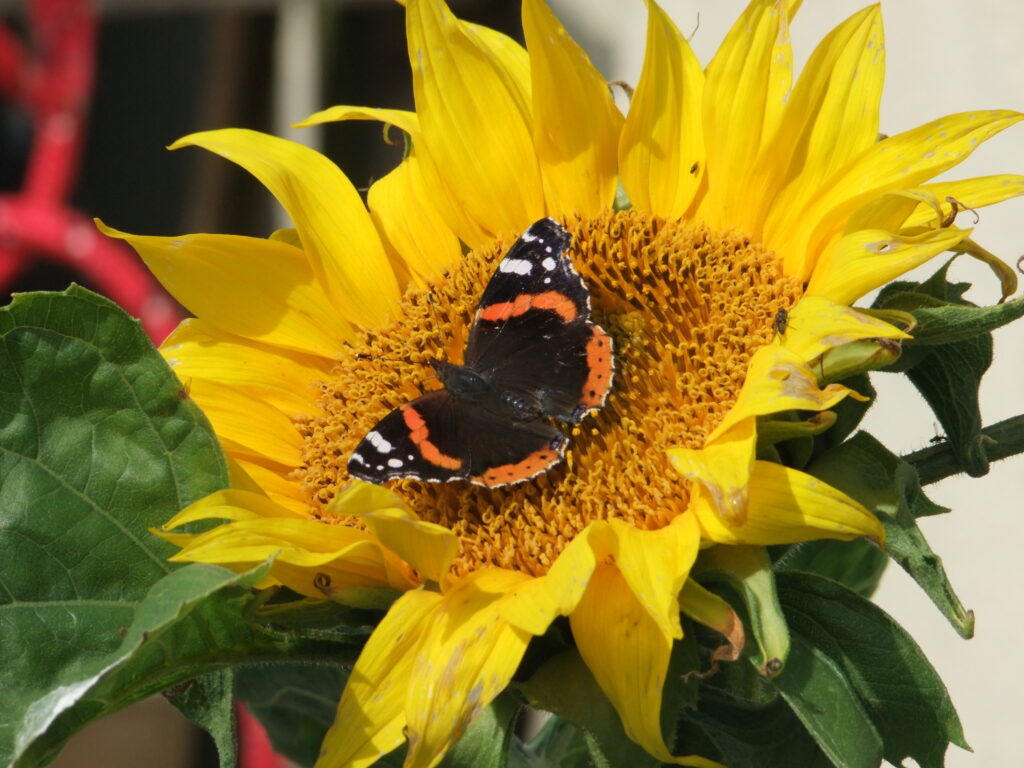 There are many varieties of sunflower ranging from dwarf sized ones to frilly pompom looking ones. Sunflowers are really easy to grow. The flowers are rich in nectar/pollen so attract plenty of bees, butterflies, moths and other pollinators. They are really impactful to a pollinator garden. They flower from around July to September and love sunny spots. Wherever you plant them, whether straight into the garden or in containers, you will probably have to put in a cane or support to keep them upright, as they can grow pretty tall! (unless you have the dwarf variety of course)
Also, if you leave them to seed once their flowers have gone over then they are also a favourite for our garden birds, especially members of the tit family. Each sunflower can contain up to as many as 2000 seeds!
The image above is what grew from one seed that I took out of a regular birdseed feed mix & put into a container to "see what happens", so I was delighted with the result! As I said sunflowers are one of the easiest annuals to grow – even I didn't kill it 😊
9. Sweet Alyssum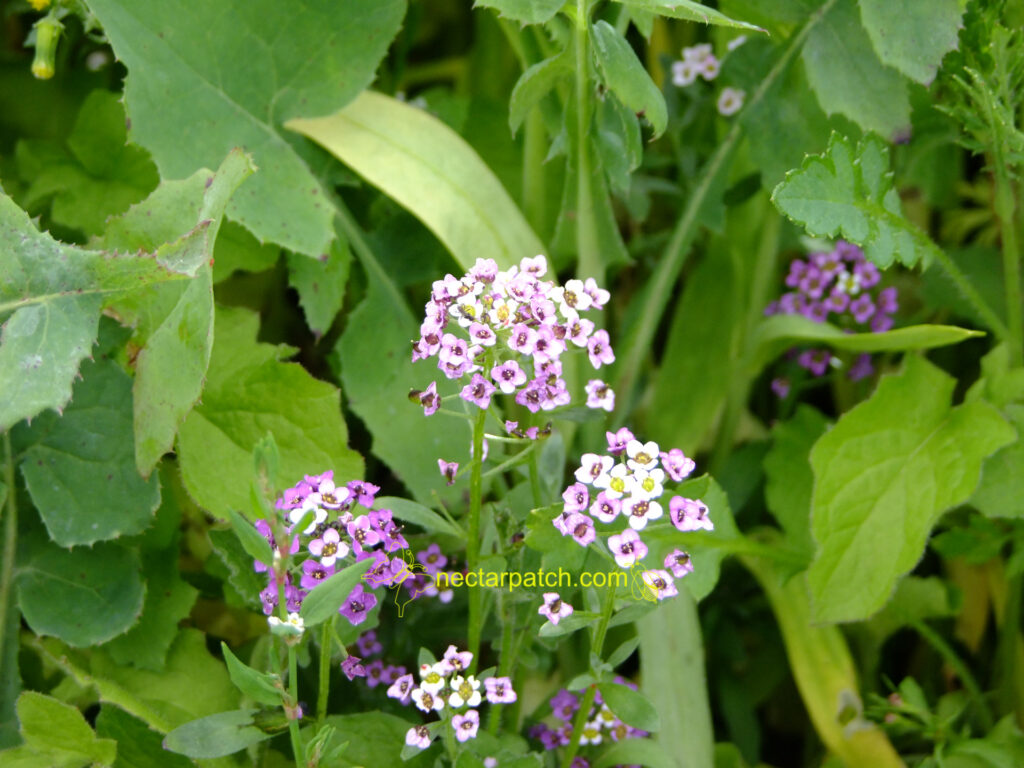 The alyssum was the very first to flower from our wildflower seeds last year and seemed to last for months! Officially they flower from June to September, but I think ours started flowering in May and were still around in October! They like full sun or dappled shade, and their clusters of small white flowers attract bees, butterflies, moths and other pollinators.
10. Verbena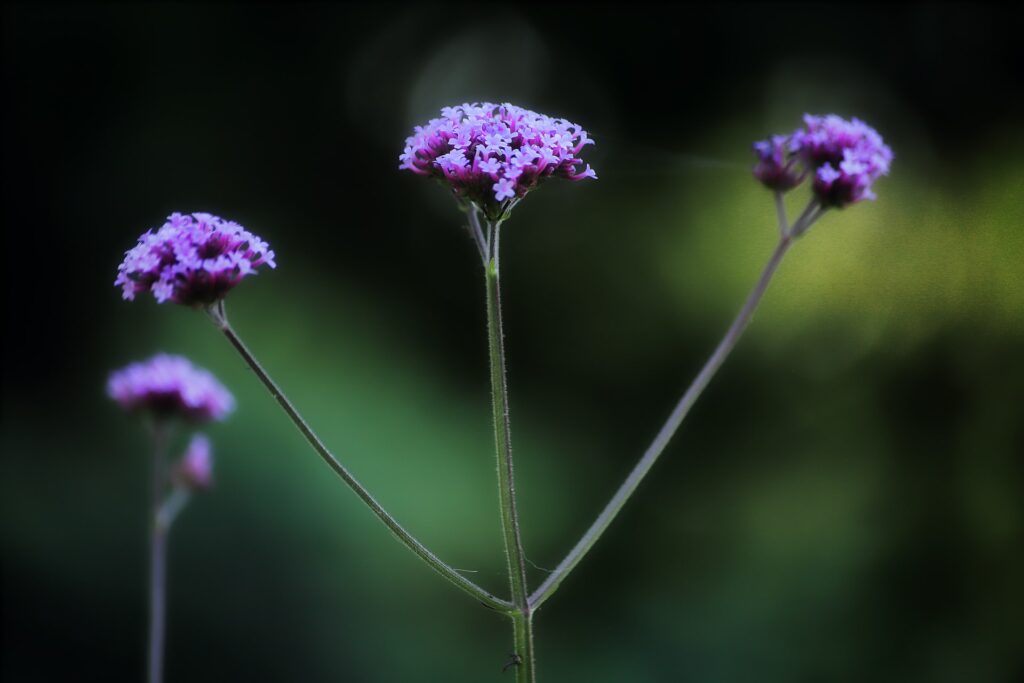 Verbena can be classed as annuals or perennials, depending on your location, climate and the species of plant etc. It is a tall shrub with small purple or pink flowers and is very popular with bees, butterflies and moths. Some might say it even rivals the butterfly bush when it comes to butterflies! It thrives in a sunny, sheltered spot and flowers from around June to September.
So there you have 10 annuals to include in your garden if you want to help the pollinators… just imagine the difference it would make to our pollinator numbers if everyone dedicated a tiny space in their garden (even a small window box or hanging basket) specifically to help them!