More and more people are becoming aware of the need to help keep our pollinators safe and happy.  One way we can do that is to create areas in our garden specifically for them.  Butterfly and bee friendly gardens are becoming more popular.  Not only are you helping the pollinators, but you are also benefitting from getting closer to nature and improving your mental well-being.  Research shows that we benefit from nature experiences, not just through our sight, but also our other senses which we tend not to think about when being in nature… it's a win-win situation!  So how do you go about starting a butterfly garden?
There are 3 main areas to think about when you start planning your butterfly garden; the location of the butterfly patch, the types of plants/flowers you want to plant to specifically attract butterflies, and the actual needs of the butterflies.  We'll go through each one in more detail below…
Where to put the butterfly garden?
Obviously, this depends on the size of your garden. Butterflies love the sun and will mainly be active in bright, sunny areas. If you have a sunny patch in your garden, then it makes sense to position the butterfly garden there.
However, not everyone is lucky enough to have a full sunny patch, so what can you do then? Don't worry, butterfly gardens come in all shapes and sizes – from big sunny wildflower meadow areas to small window boxes.
If you have a shady garden, you can still attract butterflies to it, you just need to look at the types of flowers you plant.  You'll need to choose ones that attract the butterflies in your area that also grow well in shade.  Also, don't forget there are plenty of woodland-type butterflies that prefer dappled shade anyway.
It also depends on the type of garden you have or want to create.
Do you have a formal garden?
For example, one that has boxed hedging, flowers planted in certain patterns or blocks of colour etc?  If so, you need to decide if you want to create the butterfly garden in the same type of style.
Do you want to create a wildflower area?
We had a wildflower patch last year and it was beautiful when it was in full flower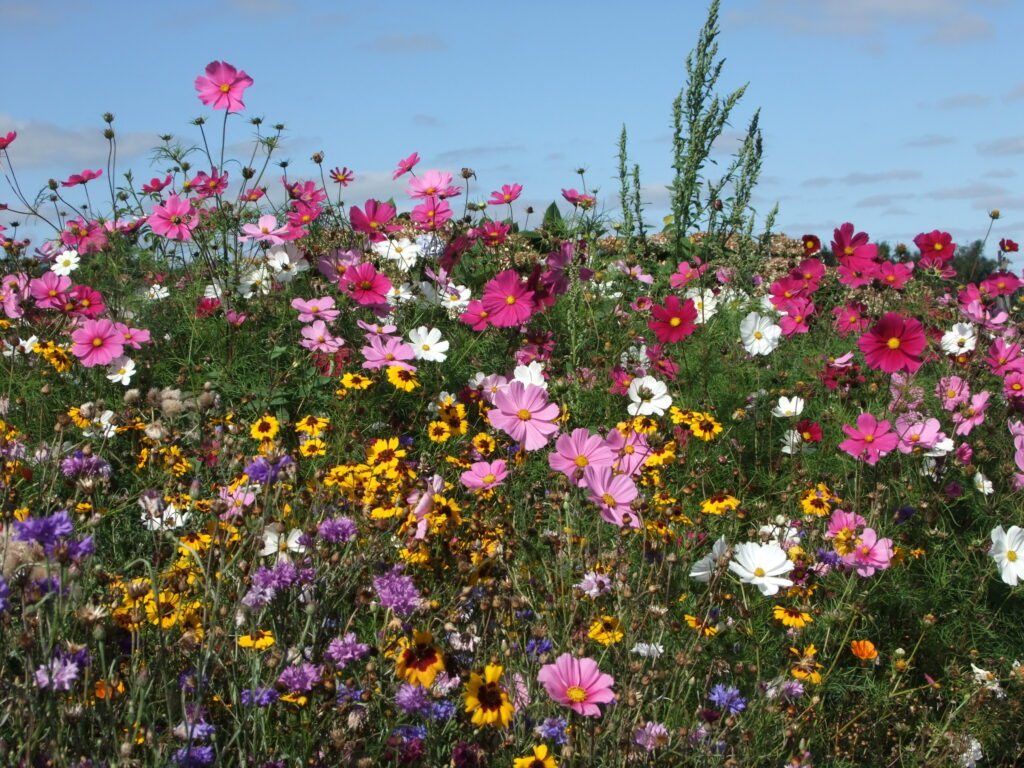 One advantage of this is the randomness of the flowers – you can literally just scatter seeds wherever you like within the butterfly garden.  Garden centres sell lots of different pollinator seed packets which have flowers specifically to attract butterflies and bees.  You can also buy them as colour packs, e.g. a pack of just yellow flowers, or purple, if you want to have blocks of one particular colour.
Do you have a small container garden?
Your garden might be a small patio area that is filled with planters.  Again, you can easily attract butterflies to containers if you choose the right type of flowers.
Do you live in an apartment with no garden area?
You might not have any garden at all, just a few window boxes – that's okay too! You can still attract butterflies; it might take a bit more time that's all.  Think more about the colour and fragrance of the flowers you plant.
Wherever you decide to create the butterfly garden, you will need to make sure it is sheltered.  If it is in a windy location then add some form of wind break, a hedge, tall shrubs or plants, or fence, as butterflies are delicate and don't like the wind very much!  If you use tall shrubs or bushes as a wind break, think about using ones that are host plants, in other words ones that the butterflies like to lay their eggs on.
Which flowers should I plant to attract butterflies?
Once you've decided on the location of your butterfly garden, you then need to research the type of butterflies that you might attract. Look at what species of butterfly are native to your area and then choose plants that are also native and are specifically intended for attracting butterflies in your region. Try to stick to native plants as butterflies prefer them, being as they have evolved together. Below are a few good websites I've read through before to get specific information about the butterflies where I've lived:
Once you have an idea of which butterflies you want to attract, you can then move on to the flowers they like.
Make sure to include plants which flower at different times of the year, so there will be nectar available from early spring right through to late autumn.  Flowers that bloom in the spring are vital for butterflies coming out of hibernation, whilst autumn flowers will help butterflies build up their energy reserves ready for winter.  Also, think about planting blocks of the same type of plants together rather than single flowers, so that butterflies can easily find them.
Nectar producing plants
Butterflies feed on nectar so obviously the plants need to be nectar producing. Go for a wide variety of height, leaf texture, colour and bloom size; by planting a variety of food, you are encouraging different species of butterflies into your garden.
Below is a short list of nectar producing plants to help get you started:
Butterfly Bush (Buddleia davidii): The clue is in the name! Butterflies love this shrub 😊 A hardy, fast-growing bush that's easy to grow in almost any soil and can also be kept in pots. There are lots of different varieties flowering in purple, pink, white and red.
Verbena (Verbena bonariensis): There are lots of different types of Verbena, all have long bloom times making it highly attractive to pollinators.  They like to be grown in well-drained soil and in full sun.
Lavender (Lavandula): Lavender is one of the most popular small garden shrubs, and its nectar/pollen rich flowers are extremely attractive to bees, butterflies, moths and other pollinators.  It thrives in a sunny, sheltered position in well-drained soil.
Wild Marjoram (Origanum vulgare): An aromatic herb with pale pink flowers that attract a variety of butterflies.  Its leaves are also a food source for caterpillars of the mint moth.
Cosmos: These versatile, easy to grow plants have daisy-like flowers and bloom throughout the summer and into autumn. They attract a variety of butterflies, bees and other pollinators.  They like to grow in full sun in well-drained soil.
Phlox: Phlox is native to North America, often found growing in a range of habitats from woodland to open prairie.  They attract bees, butterflies, moths and other pollinators.  There is a huge variety of Phlox and some bred varieties have no benefit to wildlife, so make sure you research the variety before planting this in your butterfly garden.
Aster: Asters are a must-have plant in the butterfly garden.  Choose a type that is native to your area and watch the butterflies arrive 😊  They are a late-blooming nectar plant and so will attract butterflies to your garden throughout the end of summer and into autumn.
French Marigold (Tagetes patula): These small bushy plants grow in a variety of oranges, yellows and reds, and prefer free-draining soil in full sun.  Plant in large numbers to attract butterflies.
Host plants
Also think about host plants – the plants that suit caterpillars / larvae. Caterpillars like to feed on leafy foliage of trees, shrubs, vegetable plants, herbs and weeds.
It all depends on where you live, and which species of butterfly you get in your region.
For example, in our garden last year we had lots of Cinnabar Moth caterpillars which fed off ragwort growing in the gravel – we encouraged them by leaving the weeds there.  We also left a nettle patch in one corner of the garden which was home to the caterpillars of the Comma butterfly…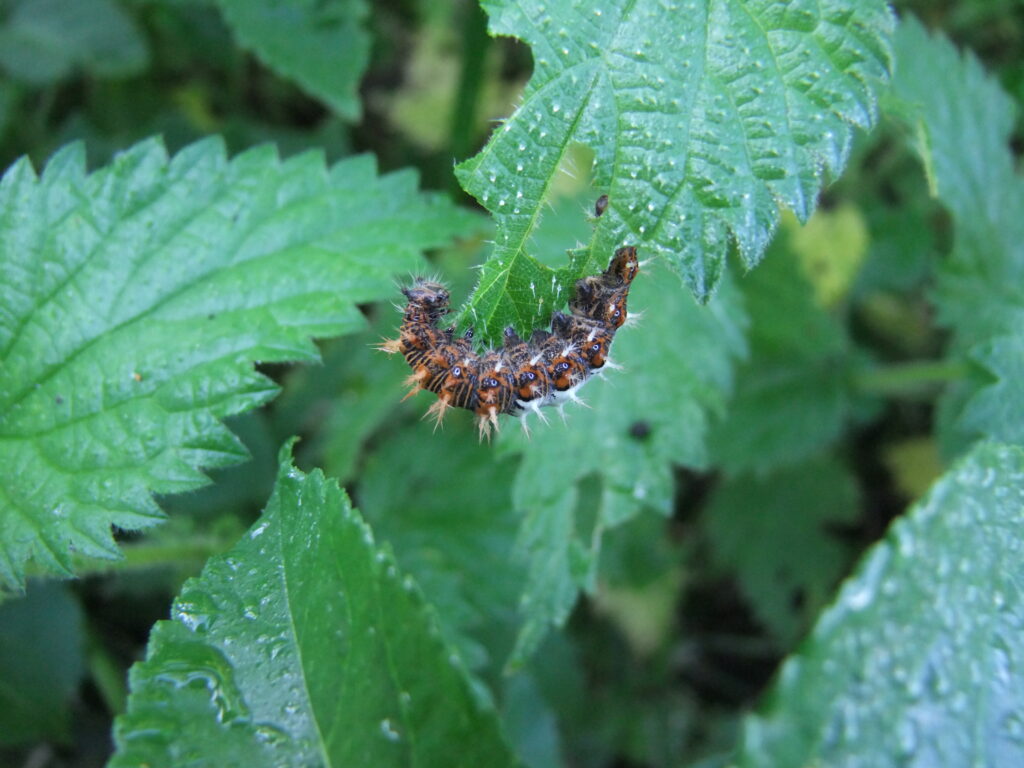 The common nettle is also the only food the larvae of the Red Admiral will eat, which might explain why we had so many Red Admiral butterflies last year 😊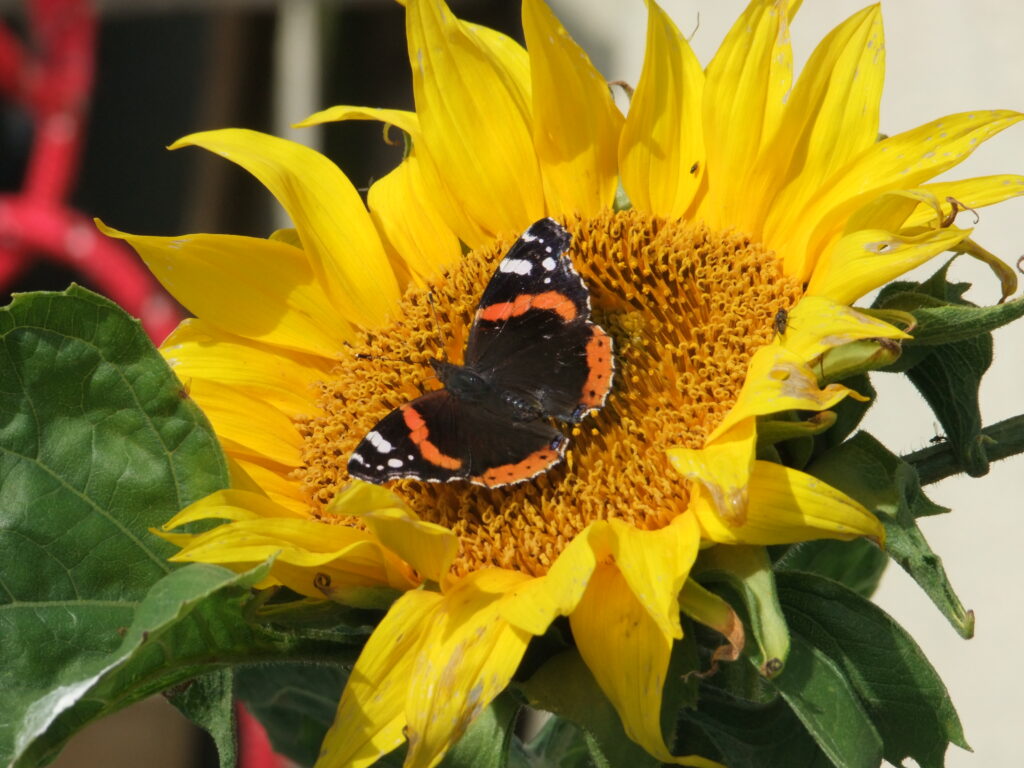 What else do butterflies need?
Now we have covered the basics of what type of garden and flowers butterflies like, you should also consider their other needs when planning for a butterfly garden.
Rocks / stones: Butterflies like to sun themselves.  You'll often see them resting on a stone with their wings spread.  This helps to raise their body temperature in order to remain active.  Are there any rocks or walls in your butterfly garden which they can use to perch on?
Puddling stone: You can often see butterflies "puddling" – where they congregate on wet sand to drink water and get the extra minerals they need.  It's easy to create a wet area or puddling area in your butterfly garden.  All you need is a large shallow dish, add some moist sand or course dirt to one half of it, and a few rocks and pebbles in the other half for butterflies to rest on.  If you don't fancy making one, you can also buy them from Amazon and Etsy. 
Shelter: Think of places butterflies can go when the weather turns nasty.  Are there rocks or trees around where they can hide in the cracks? You might like to include a butterfly house in your butterfly garden – these are usually a small wooden built house with narrow slits in the front for butterflies to shelter in.  They are usually combined with bee hotels.
Other food: Butterflies love overripe or rotting fruit as they fill up on the sugar from it.  If you have any fruit trees in your garden, leave some of the fallen fruit so butterflies can enjoy it.  If you don't have fruit trees, then place pieces of overripe fruit on a shallow plate, with a bit of added water to stop it from drying out and put it somewhere in the garden where you can watch the butterflies feed on it.
There are lots of advantages to creating a butterfly garden, not only are you helping the pollinators, but it's also a great area for you to relax and watch nature do its thing. Enjoy 😊