Woke up this morning to about 3 inches of snow – what a pleasant surprise!  After re-filling all the feeders and clearing some of the snow off the garden, we decided to take a walk down to the beach.  The sun was out and it was a gorgeous morning – not too many people about either!
This is an old ruin in a field we have to cross to get to the lane to the beach – you can just see the sea in the background.  The wires running behind are for the train (the Dart) which runs to Dublin.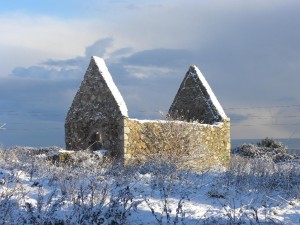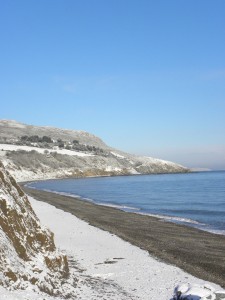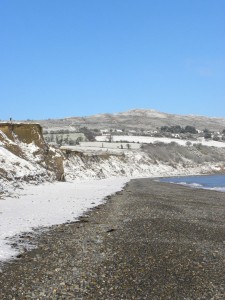 The picture below shows the walk we took – the council have put a fenced corridor through the farmer's field to allow access to the walk.  The original path went along the cliff (to the right of the photo) but this is now closed off due to land slippage / erosion.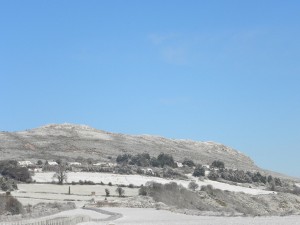 It was lovely walking through the field, there was a mixed flock of Finches and Tree Sparrows which kept landing in the field to feed before settling on top of the hedgerows in front of us.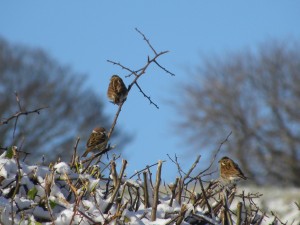 Also spotted this male Reed Bunting which was feeding with them.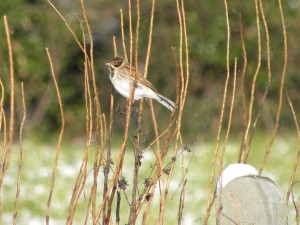 There was another bird was with it but ID'ing is not my strong point especially on brown streaky birds! 😉  Thinking maybe a Meadow Pipit as I don't think its a female Reed Bunting – not sure though so suggestions would be appreciated!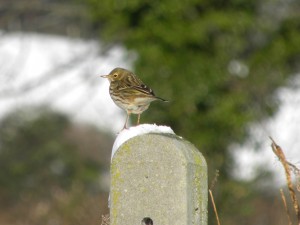 This little Blue Tit was also flitting about the grasses – unfortunately every shot I took of it had a stalk in front of it 🙁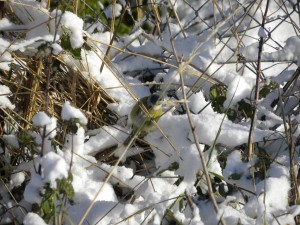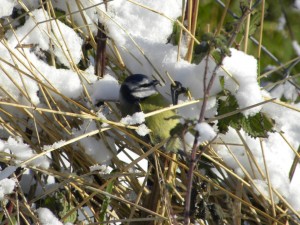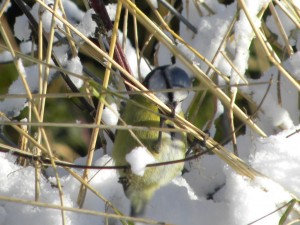 Apparently there's more snow forecast this week so we've stocked up on bird food, suet, nuts and fruit – at least the birds will be eating well!  The garden was full this afternoon of the regulars but we also had 4 Chaffinches down feasting.  One good thing about bad weather is that it brings new birds to the garden 🙂